Delphic Oracle Astrology Software
Last Updated:
Mar 6, 2013
Requirements:
Mac OSX 10.6+ (VMware), Win 8, 7, Vista, Xp (64 bit or 32 bit), 1 GB RAM, 100 MB HD
Ordering:
[

Online Mall ] [

Mail Orders ]
Order Online
Delphic Oracle 6 license includes Timaeus 8 Pro!.



Technical support powered by GoToAssist.
Main Highlights
Program Details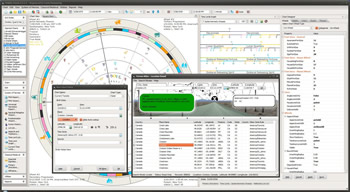 Delphic Oracle is advanced research software with the ability to cross reference transit and progression charts of many types to various time lord systems through the use of interactive graphs often with a single click! This program includes various techniques from such ancient authors as Vettius Valens, Antiochus of Athens, Rhetorius, Paulus Alexandrinus, Claudius Ptolemy, Guido Bonatti, Ibn Ezra, Montulmo and many others that spans from the Hellenistic era through Medieval up to the Modern era. Delphic Oracle has a very modern interface with a large array of features such as hi-resolution printing, Adobe Acrobat file generation, an html web publishing tool, a transit / progression animator, an interactive graphic ephemeris showing heliacal rising and setting and time lord graph, reports on countless techniques, a full set of delineations and uses the Swiss Ephemeris and the new Terran Atlas. It is the only program that includes Robert Schmidt's research in the "System of Hermes" and the only program endorsed by Project Hindsight. Recent additions to the program include aspect and testimony lines based upon the Antiochus aspect doctrine, primary directions, calculation of the almuten figurae and house / planet almutens, a chart database that is searchable, a chart designer that allows up to 4 wheels to be configured for transits, progressions, directions, etc...
Version 6 has a highly polished GUI with new icons for all the features. I have streamlined the main window a bit moving the open chart list back toward the top left and removing the unnecessary chart details memo (the same comes up as a popup hint when you click a chart entry). This allows the area to the right full docking expansion to the top. The Chart Designer now uses value list editors to edit different wheel types that have the capability to show up to 4 charts at the same time (quad-wheel). These are fully customizable and there are settings for wheel types, colors, user defined glyphs and visibility. Since there are many settings for each of these areas, each setting group has the capability to be saved as a theme on the themes tab. Wheel themes, color themes, visibility themes and glyph themes have already been defined for the average user, and trying each of these out only requires a double click on the theme and a re-draw of the chart.
Version 6 still makes use of docking to streamline the interface, but there is the option of whether to dock windows or let them float freely. There is only 1 space on the taskbar taken up by an instance of Delphic Oracle and multiple instances can be run side by side. Splitters handle the layout and retain their spacing through different sessions. There is a group bar on the left with all program functions that slides in and out by clicking on the splitter control. The chart database has been set up to save multiple charts in user defined files. These files can be searched individually or globally for saved charts and you can define chart groups such as "horary" or "electional", etc. Also the database can be sorted by date, name, etc. The chart inputs for accuracy rating on the time and a note field have been added to each chart that you save. There is no setup window that is separate from the chart viewer (which causes waste of time as is the case with Solar Fire). The viewer is in the center of the main window and is tabbed to display different views of the same chart.
Newly Added!
Added Mundane parallels, rapt parallels, declination parallels and antiscia to the Primary Directions module. Also updated the Themes to reflect historical settings of various astrologers. See readme of 6.4.2.3 for more info.
Junctinus Annual Divisions have been added to the time lord list and time lord graph.
Gauricus Monthly Revolutions and Solar Monthly Profections have been added to the Derived Charts window. These are based upon Ile Spasev's article on Revolutions.
Primary Directions have been expanded to include the circle of position method of Regiomontanus, the placidus under the pole method and polich page topocentric method (it already included the placidus semi-arc method). Also directions to house cusps, minor aspects from semi-sextile to decile, novile, tredecile, etc have been added along with placidian mundane aspects. Directions through the bounds/terms according to all direction methods have also been added. See readme of 6.4.0.1, 6.4.0.2 for more info.
1100 Fixed Stars from the Swiss Ephemeris which can be filtered and sorted by magnitude, ecliptic longitude, and declination (user defined distance from ecliptic or celestial equator). This is part of the Asteroids list now, so that you can compare planets, hypotheticals, asteroids and fixed stars sortable by position, alphabetical, distance, speed, etc according to the header you click on. This was a necessary precursor to including the fixed stars in the primary directions module.
Solar Revolutions based upon a description by Umar Al-Tabari at the request of Benjamin Dykes, PhD. Includes the ability to print, generate Acrobat files and sort listings, etc in the same way as the Alfirdaria method below.
Al-Firdaria time lord procedure with nocturnal variations for where to place the nodes according to different authors. Includes the ability to sort the firdar according to period type and date, and includes printing with acrobat file generation.
Primary directions according to the Alchabitius / Placidus semi-arc method. Includes user defined themes to group your direction types into a single theme name you can double click on later to restore all those settings at once. The idea behind this is that each author in history had a prescribed set of planets and points that were directed according to different methods. This simplifies the process of switching between different themes. You can also cross reference a primary direction by clicking on it and it will take the natal chart of the direction and give progressions, transits, etc in a multi-wheel display with a single click! Just define your autogenerated chart settings accordingly and no more messing with dialog windows to check what's happening at the onset of a given direction. Primary directions can be sorted according to any column simply by clicking on the column header, by date, by significator, by promissor, direction type, etc... Also includes printing and acrobat file generation.
Almuten Figurae (chart ruler) calculation and essential dignities tables for planets and houses with almuten calculation. Also includes the degrees of Bonatti (masculine and feminine, azemena, welled/pitted, bright, dark, smoky, and empty degrees). Also includes printing and acrobat file generation.
The Terran Atlas database of 13 million records of places with latitude, longitude and time zone information is included. This is the largest atlas availabe in any astrology software in the world. The time zones are based upon the Olson time zone standard.
Preliminary Natal Analysis (PNA)
The PNA Report gives a thorough accounting of the planets ability/fitness, energy and completion stages all from 3 points of view: local horizon, planetary and zodiacal. This is a completely unique way of looking at the details.
The PNA Wizard is there to explain the report in detail and gives the meanings behind the dignities, sect status, phasis conditions (heliacal phenomena), lunar application, house status (topical, dynamical and fortune), and various joy conditions such as the winds relative to the exaltation degree, etc... In both formats, you select a planet to investigate one at a time so that you get an in-depth perspective of whatever planet you are interested in.
Acrobat file generation and printing of the PNA report is included.
Universal Hermetics
The Universal Hermetics Report gives an outline of the life as a whole and includes 3 wizards. The Nautical Metaphor wizard, the Kurios wizard and the Predomination wizard. There are sections on the state of the trigon lords, what is known as "the grand logos", and the rulers of the nativity known as the kurios and oikodespotes which are like the ships captain and political officer.
The Predomination wizard aids in finding the predominator according to Hellenistic astrological methods which is either the Sun, Moon or Ascendant. There are options (F3) on the Predomination Tab for finding the domicile master (oikodespotes) and cooperating domicile master according to Antiochus / Porphyry or Rhetorius. In medieval astrology, these are known as the hyleg and alchochoden.
The Kurios wizard aids in finding the "top nautical officer". While the predominator defines the "Political Officer" (Oikodespotes), the Kurios wizard walks through the officers list to find the "Captain". The relationships that these planets have define the general course of the native's life. The Wizard shows each of the planets claims to the kurios position and directs you through the rules of selection. Schmidt says that Porphyry describes this as the most difficult thing of all. I hope this wizard helps you to more thoroughly objectify the choices.
The Nautical Metaphor wizard walks you through the ideas in the universal hermetics to give you an overall view of the journey the native is likely to take through life.
Acrobat file generation and printing of the universal hermetics report is included.
Topical Approach
The Complete Hellenistic Lot list. There are 163 lots defined during this era and sources along with the formula for calculation are shown. This list can be sorted alphabetically, or zodiacally depending upon the column header you click on.
Aspects and Testimony Grid. This shows the perfection of aspects according to the Antiochus aspect definitions. Later medieval astrologers have definitions that are very similar such as refranation, abscission, beseigement, etc...
Time Lord Methods (the western equivalent of the Hindu dasas)
Circumambulation through the bounds / confines according to Ptolemy and Dorotheus.
Circumambulation by circular periods of the stars (yearly, monthly, daily).
Method of Decennials according to Valens and Hephastio.
Quarters of the Moon method according to Valens.
The 129 year system of the Egyptians.
Exaltation period reduction method of Balbillus.
Annual, monthly and daily profections according to Valens and others.
Lunar Monomoiria method of Critodemus.
Zodiacal Releasing (Aphesis) from Fortune, Spirit (or user defined).
Nine Years of the Moon of Valens.
Annual Divisions according to these different types: (Standard, Hephastio, Maternus, Valens, Valens X4, Domiciles, Junctinus).
The Basics
Easy birth chart setup with Asc & MC calculated before display, with 14 house systems and 22 zodiacs (tropical and sidereal) to choose from.
Calculates Derivative Charts such as solar returns (both modern and Hellenistic), lunar returns and planetary returns out to pluto for up to 100 cycles from the search date forward or backward in time. Also calculates the 3rd, 7th and 40th day of the Moon charts according to Hellenistic tradition. Hellenistic solar returns have the option to use the transiting lord of the year as the ascendant degree or the actual degree rising.
Time Lord Graph capable of displaying 80+ time lord sequence time lines for 15 different time lord methods for over 20 points in the natal chart. Clicking on the graph generates transits, progressions, etc according to your autogenerated charts settings.
Interactive Graphic Ephemeris with heliacal phenomena and time lord support. Includes dial division by 360, 180, 90 and 45. Clicking on the graph generates transits, progressions, etc according to your autogenerated charts settings.
Includes optional user defined docking for all windows so you can control whether a window docks or floats. When floating, windows remember their size and position on screen even between program restarts.
Chart rectification and transit animation toolbars allow you to watch planet positions change over time animating the natal chart or transiting charts by user defined increments.
Chart Orientation capability that allows you to display fortune houses with the part of fortune as the ascendant in 3 different modes (0 degrees, 15 degrees or exact degree of fortune sign). The same can be done with whole sign houses from the ascendant.
Displays chart ascensional times for the zodiac signs according to Hellenistic tradition (Valens) in the center of the chart wheel or as popup hints when hovering the mouse over signs.
Popup hints that display the planets statistical details such as, exact position to the 100th second of arc, domicile, exaltation, triplicity, bound and decan lords as well as planetary sect, the winds of the planets and their chariots.
Transit delineations based upon your birth chart with interpretations using local determination with over 5,000 delineations of planets as lord of a given house or in a given house.
Delineations of natal birth chart factors such as planet in sign and house.
Multiple chartwheel styles such as circular with bounds, square chart, etc... This version has a new chart viewer window that gives a graphical display of the planets positions in the zodiac signs and houses.
Chart Designer with user defined themes to manage display settings. <F2> will bring you to the chart designer window.
Hi-resolution printing of chartwheels and reports for data calulations such as primary directions, almuten figurae and essential dignities, degrees, asteroid positions, planetary declinations and parans, etc.... There is a new hi-resolution printing standard that uses the Rave reporting engine.
Adobe Acrobat file generation. Delphic Oracle creates Adobe Acrobat files of chart display and data.
HTML web publishing tool for your charts with essential dignity tables, lot positions, eminence indicators and more; this is especially helpful when building a website.
Reports for dates of heliacal rising and setting within 7 days of the birth date, a listing of arabic parts, planetary speed, 12th parts (dwadasamsa, dodekatamoira), monomoiria, Valens eminence indicators and more...
A user defined asteroid database that is capable of calculating sorted asteroid data for all asteroids where Swiss Ephemeris files exist (there are currently over 200,000 asteroids files in the Swiss Ephemeris database).
Swiss Ephemeris level accuracy. Delphic Oracle uses the Swiss Ephemeris which is one of the most accurate planetary calculation engines in existence and has a range of 10,110 years (can calculate birth charts between Jan 1, 4713 BCE - Dec 31, 5,399 CE).
Also works with the ACS Atlas plugin with over 260,000 locations & time zones.
Online help files and over 4 hours of instruction video available.